Midtown Health Center Expands Services and Facilities As They Receive National Recognition
By ERIN BELL
ebell@norfolkdailynews.com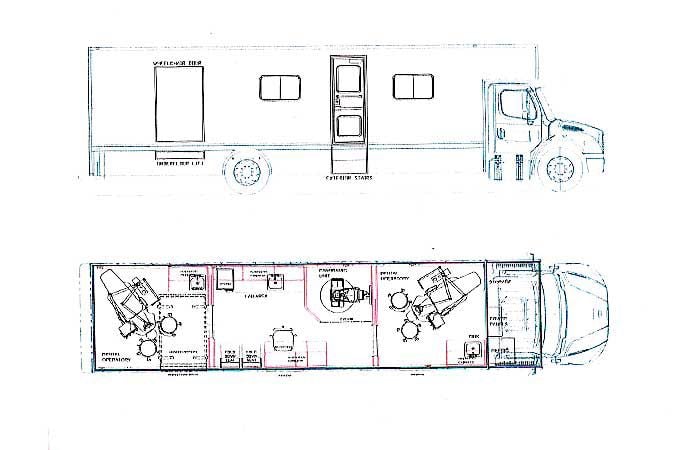 Busy barely begins to describe the months ahead for Midtown Health Center in Norfolk.
The federally qualified health center has several projects coming down the pipeline meant to better health care services in Northeast Nebraska.
That's thanks to grants — one which is meant for building renovations and one which will go toward a mobile dental unit — as well as partnerships with Behavioral Health Services and Oasis Counseling, both of Norfolk.
While distinct from each other, the projects all expand on Midtown's mission — to provide whole body care to patients, especially those who are low income.
Passers-by and patients will start seeing the projects take form in early September, as the parking lot at Midtown, located on Phillip Avenue just south of downtown Norfolk, gets repaved.
That is not part of the grant-funded projects — the money for the parking lot was the result of fund-raising efforts — but it will lead into Midtown's building construction.
"We bought the building and then outfitted it and I could only afford so much at that time," said Kathy Nordby, CEO of Midtown.
That meant only part of the building would be renovated for use at the time. But the federal government recently offered an opportunity to pursue funds to finish the building. The one-time grant received totals $1 million.
"We outgrew our space as soon as we moved in. So this gives us a chance to finish the rest of the building," Nordby said. "Since we've moved in, patient numbers have grown and our encounters are up about 25 percent. So the demand is really outstripping what we can provide. Luckily, the federal government recognized that and brought the opportunity to expand."
The money will add more patient exam rooms. Midtown currently has 11 and will have 15 after the renovations. Other changes include adding a family conference room, adding patient education rooms and adjusting the reception room so that it becomes more staggered as to keep sicker patients farther from those who may just be visiting the dentist. A more kid-friendly waiting area will be designed for the pediatric wing, too.
"We expect to do more and to do it better," Nordby said.
Midtown Health also received a grant to purchase and maintain a mobile dental unit. The grant amount is $350,000 per year for two years, after which the center can reapply for it.
Inside the unit will be two full dentist operatories, an x-ray machine and a reception area. A lift will make it wheelchair accessible.
The lift was important, Nordby said, because one of the target audiences of the unit is nursing home residents.
"This all started because Madison and Battle Creek both have dentists who are nearing retirement and so they're not big enough communities where someone may buy that practice, or may not be full time," she said. "So we want to create access points for people. And in town here, we were really endorsed by the dental community to really look at nursing home care. When you have limited mobility, bringing the dental unit to them is a lot more user friendly and we're hoping to increase good oral care for seniors."
Catering to the senior population is especially important because those individuals tend to have lower incomes, Nordby said, and oral care is not covered under Medicare. Given that their health is already more fragile, caring for their teeth or dentures is essential.
"Oral care is tied to all kinds of health-care issues," Nordby said. "If your teeth are bad, you have a lot of other things going on. So we really look at it as an opportunity to create more access to care in the community."
Midtown is ordering the dental unit now, which will then have to be built, so it should arrive in the next five to six months.
But no later than Oct. 1, Nordby said she expected patients to be able to utilize Midtown's partnership with Behavioral Health Services and Oasis Counseling.
The partnership came about because the state and federal government have become more interested in integrated services, which Midtown already offers by having medical, dental and behavioral health services in one location.
However, behavioral health has always been an area of its services that has been weaker than its others.
"We specialize most in medical, so we've had trouble sustaining our behavioral health component," Nordby said. "Our behavioral health component is very small, but what I've found over a lifetime, almost everybody has an occurrence, an episodic behavioral health issue.
"You lose your husband, you go through depression, you lose your grandmother, you lose a job, you're in a car accident — not only are you physically injured but there's emotional trauma that relates to that. So the integrated care is becoming more and more important, and treating people with chronic co-occurring conditions is what we're trying to accomplish."
For example, the symptoms of diabetes and depression can look similar.
"If you have diabetes, if it's not under control, if your blood sugar is way high, you don't feel very well, so you have a headache," she said. "You feel like you don't want to go anywhere. You just want to stay in bed all day, which is exactly what happens if you have depression. If you have a history of chronic depression or anxiety or both, and you have diabetes or hypertension and you feel crummy today, you don't know if I'm depressed because my diabetes is out of control, or I'm depressed and therefore I'm not walking and then my diabetes gets worse."
That's why it's important to integrate behavioral health and medical treatments. By forming a partnership with Behavioral Health Services and Oasis Counseling, they can do just that.
Midtown Health will rent part of Behavioral Health Services facility located on Ninth Street and Norfolk Avenue where they will staff some providers. Their services will be open to the general public, but the ultimate goal is to create a relationship with Behavioral Health Services' existing patients.
At Oasis, Midtown Health mainly plans to have patients referred to their Phillip Avenue location, but they will send medical staff to the Oasis facility at least one day a week.
It's this attention to care that helped Midtown Health Center receive recognition from the National Committee for Quality Assurance as a patient-centered medical home. That's a model of care that combines teamwork and information technology to improve care, improve patients' experience and reduce cost.
Madison Medical Clinic also received the recognition. They are the first practices in Madison County to do so.
"It's really about having the policies and procedures, and not just having it on paper, but you live that lifestyle," Nordby said. "So every day if you make your first appointment here, we have an intake person who reviews all of our services and we track the time and we try to determine how long you wait in the lobby before you get back to the medical room, and once you get to the medical room we don't just let you sit there because then we've met our quota. It's about getting your whole patient experience and we do it in a timely manner."
The designation also empowers patients to be more involved in their care.
SaveSave
https://4f5612.a2cdn1.secureserver.net/wp-content/uploads/2016/06/MIDTOWN-HEALTH-logo-copy-300x110.jpg
0
0
Anna Meis
https://4f5612.a2cdn1.secureserver.net/wp-content/uploads/2016/06/MIDTOWN-HEALTH-logo-copy-300x110.jpg
Anna Meis
2016-08-24 13:28:40
2018-06-15 14:41:48
Midtown Health Center Expands Services and Facilities As They Receive National Recognition